The Lime Lighter
Music-Reading Solution for People with Low Vision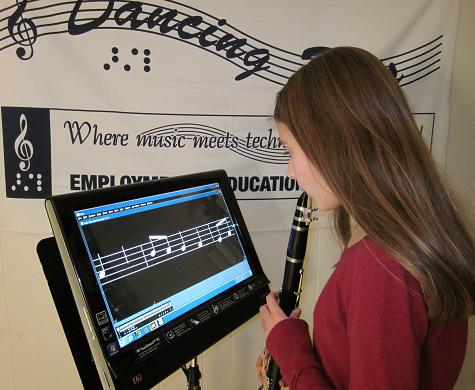 Donít struggle to see the notes anymore. The Lime Lighter from Dancing Dots lets people with low vision read print music with ease, clarity and comfort. If any of the following applies to you, then The Lime Lighter is the solution for you.
I used to love to play the piano, but I donít play anymore since I cannot clearly see the music on the music rack.
I want to play in our school band, but I have to enlarge the sheet music so much that it falls off the music stand.
I enjoy singing in our church choir and community chorus, but I struggle to see the music.
Read your music clearly with Lime Lighter and feel only the joy of making music once again.
Brief Video of The Lime Lighter
The information below is intended to help you to determine if The Lime Lighter technology is for you. We know that low vision conditions are rarely simple. Please review this page and then contact us for a consultation on which model of The Lime Lighter might be right for you.
All models include special version of the Lime music notation software for reading and writing magnified music as well as music OCR software.
Lime Lighter Presto: recommended for vocalists and players of wind and string instruments. Includes all-in-one touch screen PC, custom Manhasset music stand, and pedal for scrolling the music.
Lime Lighter Sonata: recommended for players of piano, keyboard and Organ. Includes pedal and 20-inch, lightweight video monitor that mounts easily on standard music racks of keyboard. PC required to run Lime Lighter software. Custom Manhasset music stand optional accessory.
Lime Lighter Mobile: Run The Lime Lighter software usig the computer and monitor of your choice. Includes pedal for scrolling music.
Review a brief presentation of The Lime Lighter. Applies to all models.

---
How does it Work?
Each time you press the control on the right side of the pedal included, the music on the screen advances to the next measure. In effect, the page of music slides from right to left so that the start of each measure appears roughly at the same position on the screen minimizing the need to shift your gaze to find your place. A focus rectangle highlights the start of each measure as well.

To move back one measure, you press the left side of the pedal. To move to the top of the piece or to the beginning of the currently repeated section, you press on the center of the pedal. You have the option to set the pedal to move by system (or line of music notation). You can reformat any score to show a set number of measures per system.
Features
Read magnified music hands-free. Keep your hands on your instrument while you scroll the score using the pedal.
Displays magnified print music notation from 1 to 10 times normal size.
Markup your music on the screen using the wireless mouse or with the special stylus and save for later.
Practice by playing along while listening to Lime Lighter play the piece at your desired tempo. During a performance, playback feature not required.
Optionally use third-party magnification software to read text in The Lime Lighter's program menus and dialogs.
Optionally use third-party magnification software to modify the foreground and background colors of the music.
Composers and arrangers can use The Lime Lighter to enter, revise and print out their musical ideas. That is, you can both read and write music in an acccessible environment.
We invite you to call Dancing Dots at 610-783-6692 (option 1) to discuss your requirements for magnifying print music. If you are ready to order now, you may order online below.
Simulation of Reading Music with The Lime Lighter
View one of the videos below to simulate the experience of reading music with The Lime Lighter. These simulations are intended solely to help you to decide whether The Lime Lighter's magnification level would help you to see music notation more easily. The Lime Lighter's maximum zoom level is 10 times original size. You can even change some other program settings to increase the actual size a bit more than that. Be aware of the actual size and zoom level that is described in the simulations and match the staff size indicated as closely as you can with what you see in the simulations.

Because these simulation videos were made on an actual Lime Lighter with a 20-inch screen, it would be best to view these simulations on a monitor with a wide aspect ratio. Again, use this video to decide if Lime Lighter might be right for you. Keep in mind that when using a Lime Lighter yourself, you control the rate of scrolling via the pedal. When you watch this video, it is like looking over someone's shoulder who is reading music on his Lime Lighter by pressing the pedal when he is ready to move to the next measure. The musical playback feature is optional and only for practice sessions. That is, you will not hear the music playback when you want to perform it yourself on your own instrument or voice.

If the notation in the videos below seems too small, remember that these videos display notation at 8x (8 times standard size). Lime Lighter can display at the even larger size of 10x. Of course, if the notes seem too big, remember that you can always set the zoom level at a lower magnification level.
More Information on The Lime Lighter
The Lime Lighter displays printed music notation using the traditional five-line staff. Zoom feature allows you to magnify the music up to 10 times the original size. You can even edit the music and print it out. But, for most low vision people, this technology will be of interest as a way of reading music comfortably. Our low vision features†provide the special magnification functions needed to display enlarged music in the proper proportions from 1.25 times standard size all the way up to 10 times.

For more easily reading text in program menus and dialogs, you have the option to use the built-in features of Windows or third-party magnification programs such as ZoomText and MAGic. You may also want to use those programs to invert the screen image or to change background and foreground colors. †

"Music educators at the Overbrook School for the Blind in Philadelphia integrate Lime Lighter into their music curriculum."
Marking the Music
† Using a special stylus which looks and feels like a standard pen, or even your finger, you can draw directly on the Lime Lighter's screen. You can also use the wireless mouse to mark up your score. The software displays your markings and saves them for display each time you open that file.

For example, if your teacher or the conductor tells you to circle a certain note or cross-out a particular measure, you can draw on the screen just as 20-20 musicians would take a pencil and mark their paper score. If you should need to change your magnification (Zoom) level, the system scales the size of your marking to the new magnification level.
Preparing Music to be Displayed
† The Lime Lighter comes equipped with music OCR software which scans print music using any standard scanner. The Lime software imports the results of the scan and displays the music according to your preferences for magnification.† It is even possible to listen to your PC perform the music as an aid to learning your part.

A second way to get music into Lime is to import MusicXML files created by other programs. More and more MusicXML scores are becoming available for download from the internet for little or no cost. Popular notation programs like Finale and Sibelius can now export music in the form of MusicXML.

Lastly, you have the option to enter music directly into Lime by typing on the PC keyboard or by playing on an electronic musical keyboard attached to your PC.
Included with The Lime Lighter
Feature Comparison of Lime Lighter Models
All models include special version of the Lime music notation software for reading and writing magnified music as well as music OCR software. See lists of specific features for each model below. Refer to the Lime Lighter Feature Comparison Chart to quickly determine which model has which feature.
Lime Lighter Presto (for singers, wind, and string players)
Touch screen Windows computer with wide aspect viewing ratio

Form Factor: All-in-One, Multi-Touch screen,†flat-panel PC
Video: 20-inch diagonal (1920 x 1080)
Wireless keyboard and mouse

Manhasset music stand to support Lime Lighter screen (similar to their large, double-shafted conductor's model)

Base Dimensions: 507mm / 20.25" x 432mm / 17"
Weight: 4.5 kg / 10 lbs
Height (top of computer on stand): Min: 44.5", Max: 65.0"
Tilt: Ranging from 5 degrees up (almost perpendicular to floor) to facing up (parallel to floor)

Stylus attached to music stand for marking screen
USB foot pedal
Lime software with custom music magnification and mark up features
SharpEye Music Reader: music OCR software for scanning scores to be read with The Lime Lighter
Dancing Dots will install and configure all software, including any screen reader or third-party magnification programs, before shipping the unit to you.
Option to have Dancing Dots prepare up to 10 pages of your print music collection to be ready to read with your Lime Lighter on delivery. Offer expires 45 days after shipping date.
Two-hour remote training and orientation consultation with Dancing Dots after you take delivery. We connect by phone and, with your permission, to your Lime Lighter via internet connection.
†
Manufacturer's Suggested Retail Price: $3,995 plus Shipping $95 (within Continental U.S.)



Order Online $3,995 (+ Shipping $95 - Use Lime Lighter U.S. shipping method)



Lime Lighter Sonata (for keyboard instruments)
Lightweight video monitor with wide aspect viewing ratio

Mounts easily on music rack of most pianos and organs.
Option to mount monitor on custom Manhasset music stand (sold separately).

USB foot pedal
Lime software with custom music magnification and mark up features
SharpEye Music Reader: music OCR software for scanning scores to be read with The Lime Lighter
Install software on your Windows PC and attach lightweight monitor included. Laptop PC recommended. Contact Dancing Dots for price quote if you need a compatible laptop.
Option to have Dancing Dots prepare up to 10 pages of your print music collection to be ready to read with your Lime Lighter on delivery. Offer expires 45 days after shipping date.
Two-hour remote training and orientation consultation with Dancing Dots after you take delivery. We connect by phone and, with your permission, to your Lime Lighter PC via internet connection.
Optional Manhasset music stand to support lightweight monitor (similar to their large, double-shafted conductor's model)

Base Dimensions: 507mm / 20.25" x 432mm / 17"
Weight: 4.5 kg / 10 lbs
Height (top of monitor on stand): Min: 44.5", Max: 65.0"
Tilt: Ranging from 5 degrees up (almost perpendicular to floor) to facing up (parallel to floor)
Stylus attached to music stand for marking screen

Manufacturer's Suggested Retail Price: $2,895 plus Shipping $55 (within Continental U.S.)



Order Online $2,895 Software only available by electronic delivery. (+ Shipping $55 - Use Lime Lighter U.S. shipping method)




Lime Lighter Mobile (Use on any PC and your preferred display)

USB foot pedal
Lime software with custom music magnification and mark up features
SharpEye Music Reader: music OCR software for scanning scores to be read with The Lime Lighter
Install software on your Windows PC. Contact Dancing Dots for price quote if you need a compatible laptop or desktop PC.
Option to have Dancing Dots prepare up to 10 pages of your print music collection to be ready to read with Lime Lighter mobile software on delivery. Offer expires 45 days after shipping date.
Two-hour remote training and orientation consultation with Dancing Dots after you take delivery. We connect by phone and, with your permission, to your PC via internet connection.

Manufacturer's Suggested Retail Price: $1,995. Electronic delivery only.


Order Online $1,995 Software only available by electronic delivery.
"Mobile" includes software plus pedal please include a physical address for shipping the pedal.(+ Shipping $17 - Use Lime Lighter U.S. shipping method)




---

For more information or to order your Lime Lighter, please call Dancing Dots at +1 610 783 6692 and press Option 1 for Sales or order online below.


Regional Dealers

If you reside in Michigan, Indiana, Illinois or Wisconsin, contact E.M. Vitu and Co., our exclusive dealer for The Lime Lighter in those states.

---

Demonstration Sites for The Lime Lighter

Call to make an appointment to visit the sites below. You may also ask about the possibility of someone visiting your home or work place to give a presentation on The Lime Lighter.

Dancing Dots, Valley Forge, PA (By appointment only. Call 610-783-6692 Option 1 for sales
E.M. Vitu, Inc.
Chicago Lighthouse for the Blind, retail store
Dan Shephard Oklahoma Assistive Technology Center
Sterling Adaptives, San Francisco, CA/northern California
A.T. Kratter and Co., Los Angeles, CA/southern California
Accessibility.net, Omaha, Nebraska

---

Online Purchasing

Complementary Text Magnification Software

MAGic 12.0 Speech

MAGic can be used with all 32-bit versions of Windows 7 and Windows Vista Service Pack 2 (SP2) or later and all 64-bit versions of Windows 7 and Windows Server 2008 $595

---

MAGic 12.0, no Speech

MAGic 64-bit can be used with 64-bit versions of Windows 7 Home Premium, Windows Vista Home Premium, and Windows Vista Home Basic MAGic Standard 32-bit can be used with 32-bit versions of Windows 7 Home Premium, Windows Vista Home Premium, Windows Vista Home Basic, and Windows XP Home $395

---

ZoomText Magnifier

Magnification software for the vision impaired for Windows 7, Vista, XP and 2000. Our Online CD version price $395

---

ZoomText USB (Flash Drive) Magnifier

Magnification software for the vision impaired for Windows 7, Vista, XP and 2000. Our Online USB Flash Drive version price $495

---

Zoom Text Magnifier/Reader

Magnification and screen reading software for the vision impaired for Windows 7, Vista, XP and 2000. Our Online CD version price $595

---

Zoom Text USB (Flash Drive) Magnifier/Reader

Magnification software for the vision impaired for Windows 7, Vista, XP and 2000. Our Online USB Flash Drive version price $695

---

Hardware Accessories

Canon LIDE series Scanner

Our on-line price $99


---

Yamaha PSR-E433 61 key portable Keyboard

The Yamaha PSR-E433 is a 61-key Portable Arranger Keyboard with 731 Sounds, 32-note Polyphony, 6-track Sequencer, Yamaha Education Suite, USB, and Speakers. Power supply sold separately, runs off of batteries.

Our Online Price $249.99

Yamaha PSR-E433 accessories

Yamaha FC4 Sustain Foot Pedal Retail $36.99

Our Online Price $29.99

Yamaha PA 130 Power Adapter Retail $19.99

Our Online Price $16.99

On-Stage Pro Double X Lok-Tight Stand Retail $109.99

Our Online Price $59.99

---

---

Back to Dancing Dots home page.

Copyright 2010 Dancing Dots